PAPA Spring Meeting Again Held at the Sweetest Place on Earth
AT: B. Derek Shaw
bdshaw@amusementtoday.com
HERSHEY, Pa. – One hundred nine members and guests of the Pennsylvania Amusement Parks & Attractions Association (PAPA)met February 25 and 26 for their spring meeting at Hershey Lodge and Convention Center. Participation was comprised of member parks and attractions, suppliers and manufacturers and individual members. The organization strives to foster an environment where industry peers can gather and learn from one another.
The first day started with a board of directors meeting in the afternoon followed by a reception and banquet that evening. Both the board meeting and evening proceedings were led by Brian Gorman, VP of operations of Waldameer Park & Water World, serving as the 2019-20 PAPA president.
Inducted into the PAPA Hall of Fame was Al Fasnacht, co-owner of Funland, Rehoboth, Delaware. His family has owned the seaside amusement park since 1962 and continues to operate with second to fifth generation members. When not at the park, the family resides in Hershey. Commenting on the presentation, Gorman said, "He brought a lot of his family. I had never met Al before. [This certainly is] quite a legacy he has led in Pennsylvania (now defunct Willow Mill Amusement Park) and also down at Rehoboth Beach. We were pleased to have him here in person to accept the award." Fasnacht is the 13th individual to be inducted into the Hall of Fame behind others such as John Allen, Milton Hershey, Harold Chanceand Bob Cassata.
The organization again held a 50/50 raffle for its scholarship fund. As a result, $500 was raised for the Barbara J. Knoebel Scholarship Fund. The winner, Buddy Knoebeldonated his portion back to the fund. Each year seven $1,000 scholarships are awarded to students who work at any of the participating member parks/attractions. Upon conclusion of dinner, many attendees retired to the Revelry Bar and/or lobby lounge to continue networking and imbibing.
The second day started with the annual breakfast membership meeting. Association business included reports in various aspects of the industry: legislative updates, Amusement Ride Safety Advisory Board, a recap of the fall PACE (Parks and Carnivals Education) ride safety seminar, waterpark issues, PAPA website and human resource matters. PAPA Treasurer Dick Knoebelamended his standard report by adding one additional word, "We are very solvent!"
Gorman, looking back on the two-day event said, "we always enjoy everyone's company and sharing ideas. We had a productive board meeting, mostly centered on the minimum wage legislation that's moving through our state government [SB79]. Other things involved mostly HR topics such as staffing. It's been a struggle for a lot of facilities to staff [adequately]. I was really happy with the amount of people who were able to attend this year. A lot of manufacturers came. We appreciate their support to sponsor the meeting and organization."
Upon conclusion of the meeting, 37 attendees participated in the roundtable discussions in the Hersheypark employee cafeteria, Coaster Café, and later moved to the Service Center Conference Room. This is the ninth year the roundtables have been held. The discussion, coordinated by Scott Silar, manager of attractions at Hersheypark, covered the entire gamut. Topics included unhappy guests and compensation policies, mommy bloggers — social media influencers, $15 minimum wage, security operations, employee recognition and retention ideas, school starts, best promotions, using volunteer groups and more. "Peer facilities discussed topics that affect their entities as challenges while taking time to celebrate successes," said Silar.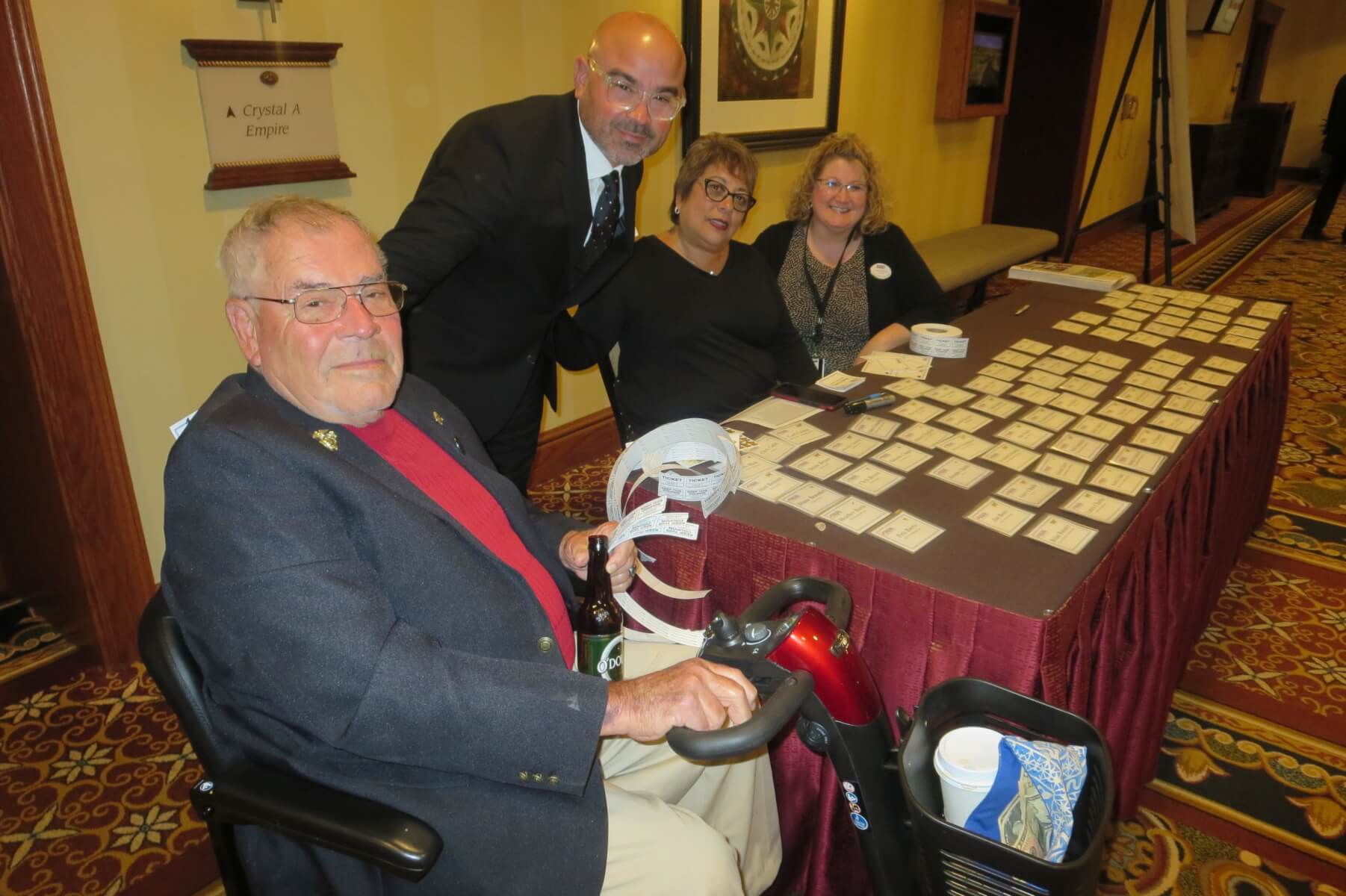 At left, Dick Knoebel with 50/50 raffle tickets in hand was ready to go as attendees picked up their name badge. Looking on are (l to r): Ramon Rosario, Zamperla, Inc.; Jeanne Reedy, Knoebels Amusement Resort; and Sueann Bradley, Hersheypark. AT/B. DEREK SHAW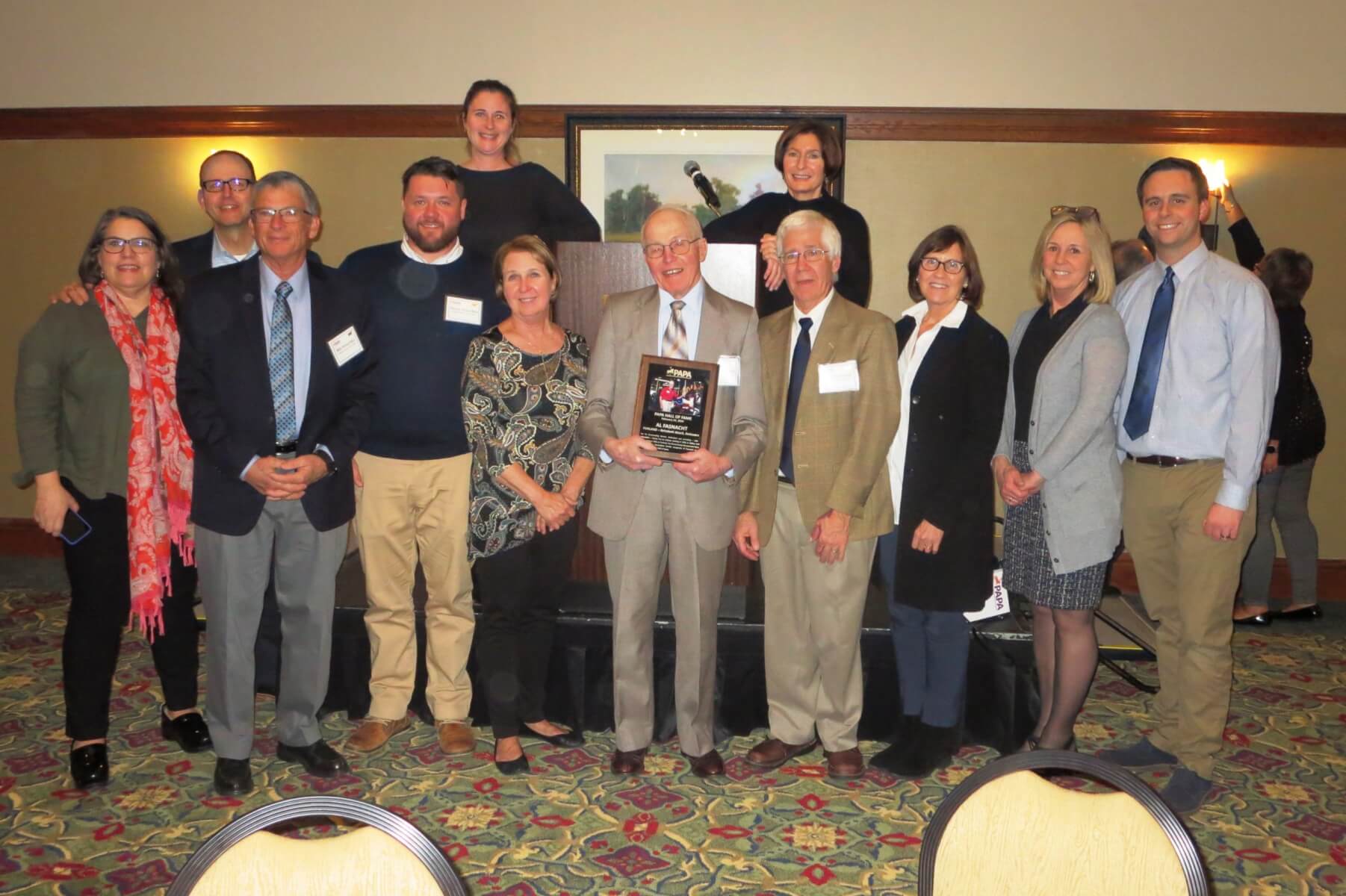 At right, the Fasnacht family turned out to support Al Fasnacht (holding plaque) being inducted into the PAPA Hall of Fame. Since 1962, the Fasnacht family members, many of whom are in the picture, have owned and operated Funland of Rehoboth Beach, Delaware. AT/B. DEREK SHAW
Special thank you to Amusement Today and B.Derek Shaw for sharing this article with PAPA. For more information regarding Amusement Today visit their profile, Amusement Today .