Hersheypark Announces July 3 Opening Weekend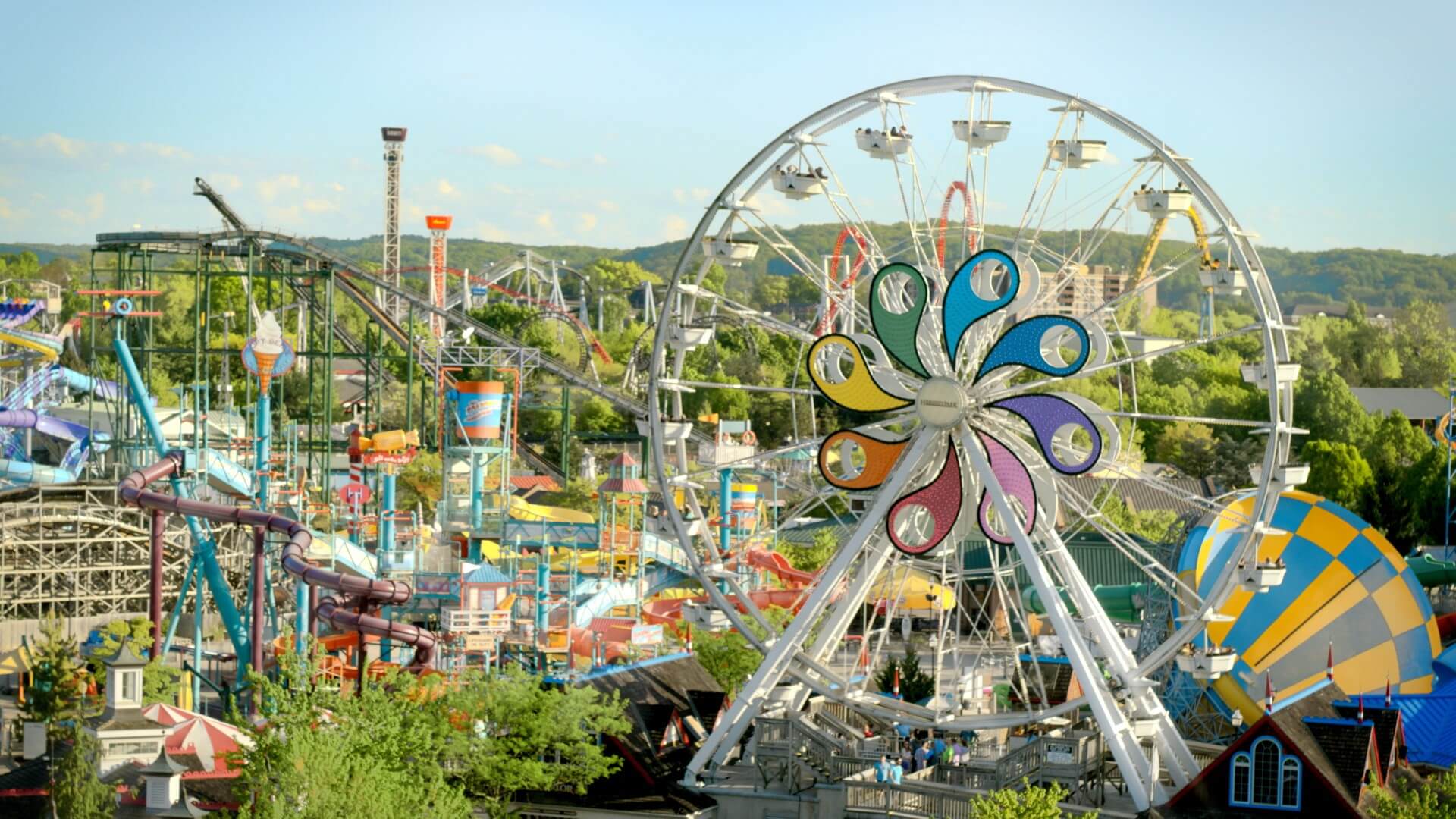 Hersheypark Announces July 3 Opening Weekend
Candymonium Hypercoaster to Open as Part of All-New Hershey's Chocolatetown Region
(Hershey, Pa. – June 12, 2020) – Hersheypark amusement park, a 121-acre theme park with family-friendly rides and thrilling coasters, a water park and a zoo, today announced plans to welcome guests back on July 3, 2020, with exclusive days for Season Pass holders on July 1 and 2, 2020.
As part of the summer opening weekend, Hersheypark will debut Candymonium, the tallest, fastest, longest and sweetest coaster at Hersheypark. The hypercoaster features a lift height of 210 feet, max speed of 76 mph, and a track length of 4,636 feet with the most airtime of any coaster at Hersheypark. Candymonium spans 7 acres at the new entrance of Hershey's Chocolatetown, a 23-acre development featuring an entirely reimaged arrival experience honoring the legacy of Milton S. Hershey.
"On behalf of the entire team at Hersheypark, we can't wait to kick off our 114th season with familiar favorites and exciting additions like Candymonium," said Vikki Hultquist, General Manager at Hersheypark. "As we prepare to welcome guests back to our clean and green destination for family fun, we want them to know that their health and safety has been and always will be our top priority at Hersheypark."
Hersheypark has implemented a variety of new safety initiatives to welcome guests back to a fun and safe environment based on the current guidance and requirements that have been issued from the Centers for Disease Control and Prevention, the Pennsylvania Department of Health, and various industry organizations. These efforts were outlined in a video featuring John Lawn, President & CEO, Hershey Entertainment & Resorts Company, and Dr. Matthew Silvis, Director of Primary Care, Penn State Health Medical Group.
The new safety guidelines are detailed at www.Hersheypark.com/safety and include:
Increased Cleaning & Sanitization: Hersheypark will sanitize high-touch areas frequently and add sanitization stations throughout Hersheypark.
Guest Reservations System: A new reservation system will allow Hersheypark to follow state guidelines on capacity and allow guests to better plan their visit in advance.
Social Distancing: Hersheypark will reinforce appropriate social distancing through signage, ground markings, and redesigned guest spaces.
Face Coverings & Temperature Screenings: All guests over the age of two are required to wear face coverings, except while dining and on certain attractions. Guests should also be prepared to undergo a touchless temperature screening prior to entering Hersheypark.
Ride Protocols: Hersheypark will determine social distancing and sanitizing requirements on a ride-by-ride basis with new procedures as necessary.
Enhanced Team Member Training: All team members will undergo increased training on new protocols.
For more information, hours and tickets, visit www.Hersheypark.com.
Around Hershey
ZooAmerica North American Wildlife Park will also open to the public on June 22, 2020, with exclusive days for Zoo Annual Pass holders on June 19, and Zoo Annual Pass holders and Hersheypark Season Pass holders on June 20 and 21. For more information, visit www.ZooAmerica.com.
The Official Resorts of Hersheypark: The Hotel Hershey luxury accommodation, Hershey Lodge resort and Hersheypark Camping Resort campground are open with new safety enhancements and various property amenities, including dining, pool and recreation offerings. Guests can enjoy savings with popular summer packages like the Hersheypark package, Kids Stay, Play & Eat FREE and 2-Day Stay & Play packages. For rates and additional information, visit www.Hersheypark.com/official-resorts/packages/.
The Spa At The Hotel Hershey and MeltSpa by Hershey day spa will open
Friday, June 19. Houlihan's Restaurant + Bar in downtown Hershey, Pa. is open for patio dining and curbside pickup from noon to 8 p.m. daily. For more information on spa and dining offerings throughout the destination, please visit www.HersheyPA.com.
About HE&R: Hershey Entertainment & Resorts Company is a world-class entertainment and hospitality company dedicated to preserving the legacy of Milton S. Hershey. Founded in 1927 by Milton S. Hershey, HE&R and its subsidiaries own and/or operate the Hersheypark Entertainment Complex, Hersheypark Arena & Stadium, ZooAmerica North American Wildlife Park, Hershey Bears AHL Hockey Club, GIANT Center arena, The Hotel Hershey, Hershey Lodge, Hersheypark Camping Resort, The Spa At The Hotel Hershey, MeltSpa by Hershey, Hershey Country Club and Hershey Golf Collection, Hershey Nursery, and Hershey Laundry & Dry Cleaning. For additional information about HE&R, visit www.HersheyPA.com.
© 2020 Hershey Entertainment & Resorts Company. All trademarks appearing in bold, italics, and/or with the symbol ®, SM, or TM are owned by Hershey Entertainment & Resorts Company, or used under license or with permission. All rights reserved.
 Hershey Entertainment & Resorts Company is proud to help fulfill the dream of our founder, Milton S. Hershey, by providing value to Milton Hershey School in its mission of helping students lead happy, healthy, and fulfilling lives – just as Mr. Hershey intended. Learn more at mhskids.org.